Polycystic ovary syndrome (PCOS) is a disorder characterized by hyperandrogenism, ovulatory dysfunction, and polycystic ovaries. Its etiology remains unknown.
PCOS is one of the leading causes of infertility and involves insulin resistance and glucose intolerance. Women with PCOS have a higher risk of Type 2 Diabetes, nonalcoholic fatty liver disease, metabolic syndrome, hypertension.
The underlying pathophysiology of PCOS is elevated insulin which leads to altered function of the hypotahalamus affecting FSH and LH secretion. The rise of LH causes more androgen hormones to be secreted. This causes an excess amount of estrogen in comparison to progesterone.
Elevated insulin leads to decreased SHBG (Sex hormone-binding globulin). This can lead to increase in free testosterone. An increase in testosterone can then further decrease SHBG. The elevated insulin can alter enzymes in the ovary to produce more androgens.
This is a Diagram  by Joel Evans, MD who explains the sequence of events due to elevated insulin: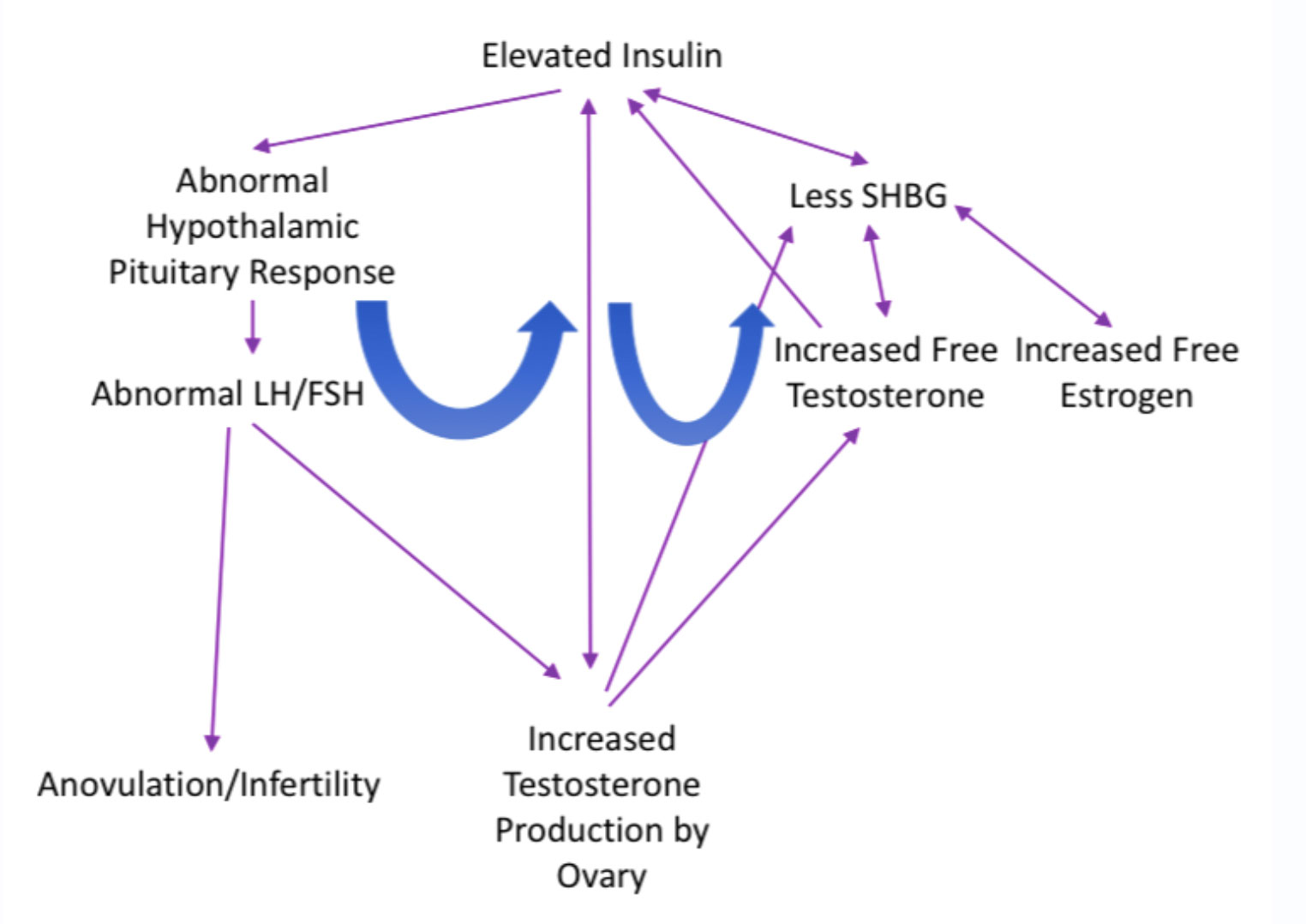 Insulin insensitivity is the major underlying cause which has a amplitude affect on other hormonal sequences of the body. Women with PCOS have a 43-46% prevalence of metabolic syndrome. Some studies have shown that 35% of obese women with PCOS have impaired glucose intolerance.
How to Manage PCOS?
Lifestyle change and fat loss (normalising body weight) through regular exercise and a balanced diet that is rich in whole foods, low in processed foods (that are high in refined sugar) and foods that are high in anti-inflammatory properties.
Increase foods rich in fibre–these can help combat insulin resistance by slowing down digestion and reducing the impact of sugar on the blood. Great options for high-fibre foods include: cruciferous vegetables, such as broccoli, cauliflower, and Brussels sprouts. Kumara, beans, lentils, almonds and berries.
Inositol is a natural substance derived from rice bran that is structurally similar to Vitamin B6. In a meta-analysis study of randomised trials, Inositol appears to regulate menstrual cycles, improve ovulation and induce metabolic changes in polycystic ovary syndrome.
Reduce inflammation and oxidative stress in the body. Increase Omega 3 fatty acids – reduce inflammation & recovery, hormonal health, cholesterol management, healthy mood, heart, gut & skin health. Increase Omega 3's- Eat more fresh or canned salmon (wild – ideally not farmed), sardines, eggs (whole), linseeds, walnuts, chia seeds and dark leafy green vegetables. Omega 3's help to reduce inflammation, manage healthy cholesterol levels and improve overall health including heart and joints. Note: Many peoples diets are low in Omega 3 and too high in Omega 6. Both are essential fatty acids with important functions in the body. But for optimal health it is important to keep them in balance. Reducing processed foods high in sugars, refined carbohydrates and vegetable/seed oils while increasing Omega 3 rich foods & supplements (optional) will support this balance.
Increase antioxidant rich foods such as green cruciferous vegetables, raspberries, apricot, watermelon, cherries, artichokes, oranges, cranberries, spinach, etc. These foods help to fight free radicals.
Reduce Stress. Elevated levels of cortisol (stress hormone) can lead to increased insulin levels, which leads to lower blood sugar then can trigger sugar cravings. It is not surprising that if you experience stress without relief, you might reach for ''comfort foods'' to satisfy you. High cortisol levels can promote fat accumulation in certain areas specifically around the abdominal region. The rush of hormones can also upset the digestive system. It is vital that you get some down time to yourself everyday. Spend some time alone, free from any distractions and do something that helps you relax. This could be anything from reading a book, meditation, having a bubble bath, cooking something you enjoy or going fishing.
Having a balanced diet rich in whole foods with lots of anti-inflammatory properties and limited processed foods will help with hormonal balance but it is also vital to balance your lifestyle too. Adaptogenic herbs and foods have been shown to reduce cortisol levels such as holy basil, liquorice root, turmeric, rosemary, aloe vera, mushrooms, withiana etc.
If you have any more queries about PCOS and managing some of the symptoms associated with this through diet, please contact a Health Professional or Qualified Nutritionist like myself.
References:
Frtiz,M.A.,&Speroff,L.(2010).ClinicalGynecologicEndocrinologyandInfertility Clinical Gynecologic Endocrinology and Infertility (8th ed.). Lippincott Williams & WilkinsKousta, E., Tolis, G., & Franks, S. (2005). Polycystic ovary syndrome. Revised diagnostic criteria and long-term health consequences. Hormones,4(3), 133-147. doi:10.14310/horm.2002.11151Corbould A. Effects of androgens on insulin action in women: is androgen excess a component of female metabolic syndrome? Diabetes Metab Res Rev 2008; 24: 520–532.Meyer ML, Malek AM, Wild RA, Korytkowski MT, Talbott EO. Carotid artery intima-media thickness in polycystic ovary syndrome: a systematic review and meta-analysis. Human Reproduction Update. 2012;18(2):112-126. doi:10.1093/humupd/dmr046.Pundir J, Psaroudakis D, Savnur P, Bhide P, Sabatini L, Teede H, Coomarasamy A, Thangaratinam S.Inositol treatment of anovulation in women with polycystic ovary syndrome: a meta-analysis of randomised trials. British Journal of Obstetrics and Gynaecology 2017.Evans, Joel. The Science behind PCOS. Metagenics seminar 2018.